The failure of renewable energy implementation is often connected to low public awareness, policy failures, and market characterization. Among other factors, the public may induce behavioral barriers for renewable energy dissemination. Therefore, it is essential to intervene and inform at the early learning stages in kindergartens. Many learning methods can drive children's attention toward a specific aspect and, consequently, increase awareness. Among these methods are computer games and smartphone applications. Social experiments show that computer games for learning help children develop a more positive attitude towards useful things than their formal learning in school. Therefore, a computer game or a smartphone application game that deals with renewable energy with content suitable for children may increase awareness of the topic among these children.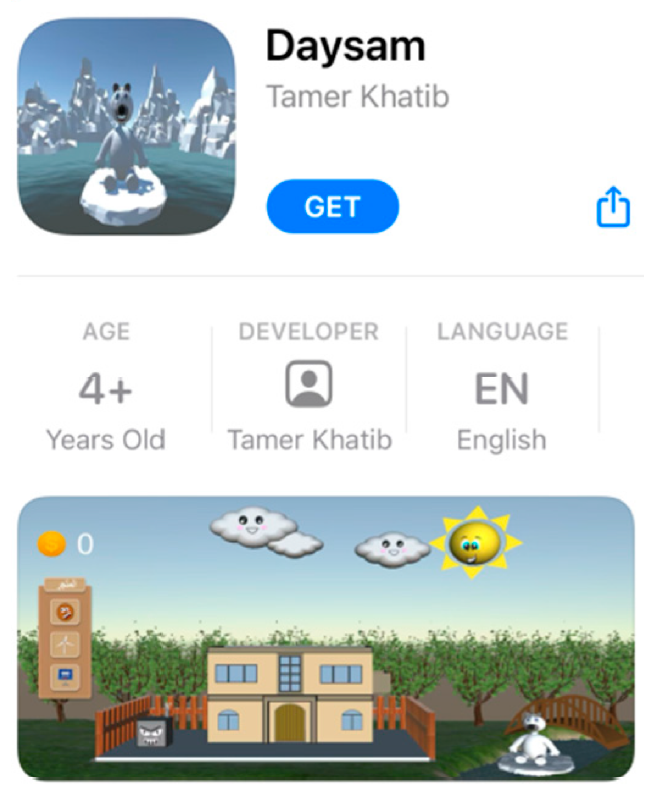 In our work, we implemented and tested a smartphone game that aims to increase the awareness of preschoolers on renewable energy. The age of the selected preschoolers is in the range of 4-6 years. The game is called DAYSAM, and it aims to increase awareness regarding photovoltaic arrays, wind turbines, mini-hydropower stations, energy efficiency, and risks that polar bears are facing. The game provides two superior features compared to other available games in Arabic language, targeting the same age group. Preschoolers from An-Najah Child Institute are selected to play this game to investigate the impact of this game. The preschoolers' awareness is tested before and after playing the game using coloring sheets in an unsupervised coloring process. The results show that the proposed game has increased preschooler's awareness of renewable energy. Before playing the game, none of the preschoolers recognized images like the photovoltaic array or the wind turbine. After playing the game the preschoolers recognized these devices in different situations and shapes. In conclusion, such a game can be used as a fun and educational tool in nurseries that use Arabic language to increase awareness of renewable energy.
More information can be found in the paper:
Tamer Khatib, Haneen Alwaneh, Wajdi Mabroukeh, Yassmin Abu-Ghalion, Fatima Abu-Gadi, Aliaa Assali, Wilfried Elmenreich, and Muna Zarour. Development of DAYSAM: An Educational Smart Phone Game for Preschoolers to Increase Awareness of Renewable Energy. Sustainability, 13(1):1–23, 1 2021.